About GWLN | About Cindy Bohnett and the Violet Hope Foundation | About Anastasia Hansel | About Anita Schamber, Ed.D
About Lynn Severance | About Karen Taylor, D.Min. | About Joanne Johnson

Public Relations & Marketing
"It is she who takes the ill-matched threads of her life and weaves them gratefully into a cloth; it is she who is able to drive the loud-mouths from the hallway and invite the one guest, you" ~ author unknown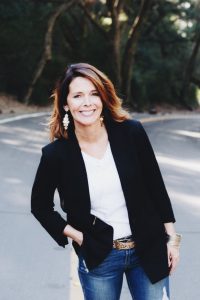 Joanne Johnson grew up in Southern California and attended Westmont College in Santa Barbara, California. She graduated in 1991 with a degree in Communication Studies and soon after married Tim Johnson. After graduating she worked mostly with non-profits organizations in philanthropic pursuits and capital campaigns. In 1996 she and her husband moved to Dubai in the United Arab Emirates. It was while living in the Middle East that Joanne began to feel burdened for women in third world countries. This burden has turned into passion as she has visited many countries and more recently the slums and orphanages of Cambodia and Thailand to witness first hand what poverty, disease, and hopelessness looks like.
Joanne has three children, Devon, Parker, and Madison. She began homeschooling them at the age of 9, 8, and 5. Within a year she co-founded The Vine Preparatory Academy and served on it's board of directors for 6 years. She is currently involved with Women's Ministries at Vineyard Community Church where her husband pastors. She teaches and speaks regularly in this ministry and serves on the Women's Ministry Counsel. She has been accepted into a Master's program at Fuller Theological Seminary to receive a Master's in Global Leadership.
Joanne writes and desires to see women of all ages find a way to engage the world in a meaningful way whatever they feel called to or have a passion for. She was powerfully impacted by Darrow Miller's book, Nurturing the Nations, and has a passion to see the dignity of women restored and the building of healthy cultures established.
She feels the call of God on her life to aide women and children in extreme poverty….that they would rise from the ashes and be clothed with a "garment of praise instead of a spirit of despair" (Isaiah 61:3)
---
UPDATE
Joanne has worked in philanthropy for 25 years assisting non-profits, individuals, and corporations. She envisioned Give4 five years ago with a passion to mobilize generosity and create community around giving. Joanne is a graduate of Westmont College with a B.A. in Communication Studies and has lived most of her life in Southern California, along with three years in Dubai, UAE. She has visited several countries around the globe, including India, Cambodia, Thailand, to name a few. She and her husband, along with their three children, live in Orange County, California.
Joanne has developed a new website! Please check it out:
---
About GWLN | About Cindy Bohnett and the Violet Hope Foundation | About Anastasia Hansel | About Anita Schamber, Ed.D
About Lynn Severance | About Karen Taylor, D.Min. | About Joanne Johnson