About GWLN | About Cindy Bohnett and the Violet Hope Foundation | About Anastasia Hansel | About Anita Schamber, Ed.D
About Lynn Severance | About Karen Taylor, D.Min. | About Joanne Johnson

Resident Advisor
"And I will give you treasures hidden in the darkness– secret riches. I will do this so you may know that I am the Lord, the God of Israel, the one who calls you by name" (Isaiah 45:3 NLT)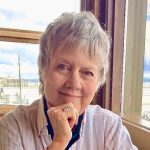 Lynn grew up in a military family, continually finding herself in unexpected places: new homes, schools, and new people in her life. God's ordained purposes for her emerged with skills for meeting challenges that change can bring.
She earned her BA in Elementary Education from the University of Washington, graduating in 1965. The summer of 1964 was spent working, with other college students, in the remote Mexican village of Zacatelco, 80 miles southeast of Mexico city.
During her 27 year teaching career, Lynn wrote curriculum for her school district and the state of Washington. Seattle's PBS television studios were her classroom for 2 years as she co-wrote and co-produced two series of programs used in the Washington state schools. Sandwiched into those 27 years were 2 years on the east coast: one year working in the southeast section of Washington, D.C. (Anacostia) with a team of 10 as community organizers with the VISTA program; the second year she was back in a classroom, teaching.
She represented her school district on curriculum committees and at national conventions. Since 1980 she has been a member of Alpha Delta Kappa, an International Honorary Organization for Women Educators, serving in various offices at the local and state levels. In 1990 she was awarded their annual ADK Living Memorial Scholarship given for the purpose of travel to create curriculum. This took her to the east coast for 8 weeks of travel and study at various colonial historical sites.
In 1983, a one time intense vertigo attack left Lynn with permanent vestibular dysfunction resulting in constant dizziness, intermittent sessions of vertigo, related side effects of nausea, tenuous balance, neck and back pain, visual tracking and eye fatigue. Finding herself in this unexpected place, she called upon the strength of the Lord to help her adapt as no medical treatments have brought healing. This adaptation prepared her to trust and continue teaching when, in 1987, she unexpectedly had surgery and follow up treatments for breast cancer.
In 1992 she embraced an early retirement option with a retirement goal to write to encourage others. She works at a small screen laptop computer, needing to lie on her couch as she types.
In 2000, Lynn met Tim and Anastasia Hansel who had come to Seattle to care for Tim's mother. Tim introduced Lynn to an online Christian ministry – Rest Ministries – whose purpose is to minister to those living with chronic illnesses.
In 2008, Lynn was asked to join their team of devotional writers.Through this online opportunity, Lynn has "met" many women living in their unexpected places of chronic pain and challenges. The ministry has a global impact. Lynn has encouraged, and been encouraged by women in other countries besides the United States: Canada, Scotland, Africa, Australia, and New Zealand being among them.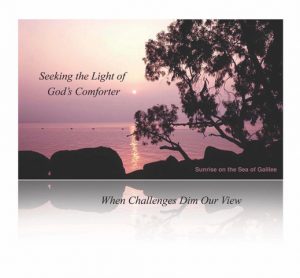 Lynn's first book, a compilation of devotionals with full page colored photos to accompany each one, was published in January, 2017. The book is 8 x 11, has a book resource section and a study guide for personal reflection or group discussion of each devotional text. "Seeking the Light of God's Comforter—-When Challenges Dim Our View" can be purchased from Redemption Press' website store.
CLICK HERE TO PREVIEW/PURCHASE
The page link, just above, has a generous length sample PDF that takes a reader through all of Section ONE. Redemption Press has the correct set retail price. An e-book version is also available. Also available through Amazon.
February 12, 2017 brought a Global Women event as Anastasia came to Seattle and was joined by Cindy Bohnett to celebrate the book's publication at Lynn's Book Launch Party.
---
About GWLN | About Cindy Bohnett and the Violet Hope Foundation | About Anastasia Hansel | About Anita Schamber, Ed.D
About Lynn Severance | About Karen Taylor, D.Min. | About Joanne Johnson