And He just said "Pedal"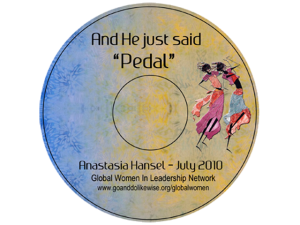 Anastasia Hansel shares how her story became HIM-pacted by His story. She uses a cycling theme as bullet points:
As I Was Going
Is 'This' Where I Was Going?
Being Nowhere; Being Now/here
And He Just Said 'Pedal'
Duration: 45 mins.
Price: $10.00 (plus 3.00 shipping/handling)
---
Trips for Transformation Journal
Anastasia has developed a 15 day "Trips for Transformation" daily journal for those who want to grasp life at its depth. Global Women in Leadership Network likes to combine action with focused reflection on our international venues into Third World Countries. We provide a process that allows for significant growth and improvement in one's quality of life. Throughout these daily readings, one is invited to ask the question, 'What do I want from this time called life?" If you are someone who wants to re-connect to the adventure of LIFE . . . you want to know it, to taste it . . . to be someone who influences others to take us there and make us want to turn the page.

Price: $10.00
Click "Buy Now" to purchase this instant download. After payment you will given access to the pdf. From there you can view, print and download the file to save for printing/reading later on.
---
Seeking the Light of God's Comforter – When Challenges Dim Our View
A book by Lynn Severance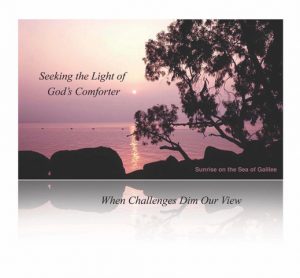 Lynn's first book, a compilation of devotionals with full page colored photos to accompany each one, was published in January, 2017. The book is 8 x 11, has a book resource section and a study guide for personal reflection or group discussion of each devotional text. "Seeking the Light of God's Comforter—-When Challenges Dim Our View" can be purchased from Redemption Press' website store.
CLICK HERE TO PREVIEW/PURCHASE
Also available through Amazon for those wanting to take advantage of free shipping through their Prime account.